Project usense
From www.evillabs.net
usense USB Sensors
Supports the Vernier GoTemp and the TEMPer1 USB temperature sensors via libusb.
Vernier GoTemp!
The Vernier GoTemp! looks like this: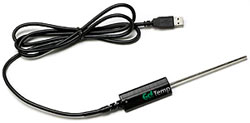 NOTES
Expensive
Requires calibration
Probe is not salt-water tolerant
TEMPer
The TEMPer1 and TEMPerNTC devices look like this:

Supports the TEMPer, TEMPer1 (with external probe), and TEMPerNTC (with external probe)
NOTES
Cheap
Factory calibrated
Probe on TEMPer1 is salt-water tolerant (so far)
Download
Get it from my GitHub repo.